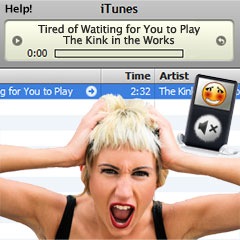 Have you ever had a MP3 file appear in your iTunes library that simply won't play in iTunes or on your iPod? It doesn't give you an error, it just refuses to play singly, or if it appears in a playlist it just skips to the next song? If your iPod and iTunes won't play an MP3 file and Windows Media Player or another media player can, there's a good chance that Apple doesn't like your ID3 Tags. Let's find out how to prevent this specific issue, since there won't be a patch for it.
If you're "sleeping with the enemy" by listening or organizing your audio files with anything but iTunes it may just give you the silent treatment the next time you go try to play a "tainted" file. Apple has left this incompatibility in iTunes and the iPod's operating system with the mentality "If you're not listening to your music in iTunes or your iPod your not listening to it at all." If you're using iTunes you probably have an iPod, so that's ok most of the time, but if you accidentally open something up in Windows Media Player, or want to use one of the many MP3 tagger and organization programs available, you should be able to without fears of reprisal from Steve Job's money maker.  
THE WHY
When digital audio files first popped up, they were identified by filename.  This didn't work out so well because if you name each file according to its Title, Artist, Album Name, Release Date, Genre, Track Number you'll end up with something like this:
The Beetles – Sgt. Pepper's Lonely Heart Club Band (01.06.1967 UK) – Side 2 – 05 – Sgt. Pepper's Lonely Hearts Club Band (Reprise) [Psychedelic rock].mp3
Or even worse some songs filenames would exceed the length allowed by any respectable operating system. A tragic example would be any of the tracks from Soulwax's October 22, 2007 release titled:
Most of the remixes we've made for other people over the years except for the one for Einstürzende Neubauten because we lost it and a few we didn't think sounded good enough or just didn't fit in length-wise, but including some that are hard to find because either people forgot about them or simply because they haven't been released yet, a few we really love, one we think is just ok, some we did for free, some we did for money, some for ourselves without permission and some for friends as swaps but never on time and always at our studio in Ghent.
To address these issues and add flexibility to embed things like lyrics and album art a standard was created to enable storage of data inside the MP3 file (encapsulated in something called an ID3 tag.) This standard has changed over the years, but the last time it was updated was 1999, and iTunes was released in 2001, so don't count on Apple ever supporting or implementing it properly. Some programs write tags that are incompatible with iTunes propriety tags. Microsoft's Windows Media Player is one of many such applications.
However, Windows Media Player is written to allow you to play audio files with incompatible or even corrupt tags, way to play nice Microsoft! However, Microsoft isn't the only company with evil geniuses… the masterminds at Apple found a great way to lock users into using iTunes. It gives users who deviates from iTunes just once the impression that x.y.z player "broke" my MP3 files and they won't play on my iPod! I'm never using x.y.z player or music tagger and organizer again! Well guess what? I think you should be able to play your files or organize them however you want, wherever you want with whatever you want without fear of reprisal. Here's how you can do just that:
THE FIX
Step 1: Highlight the silent file in iTunes and right click on it, when the menu appears click "Convert ID3 Tags…"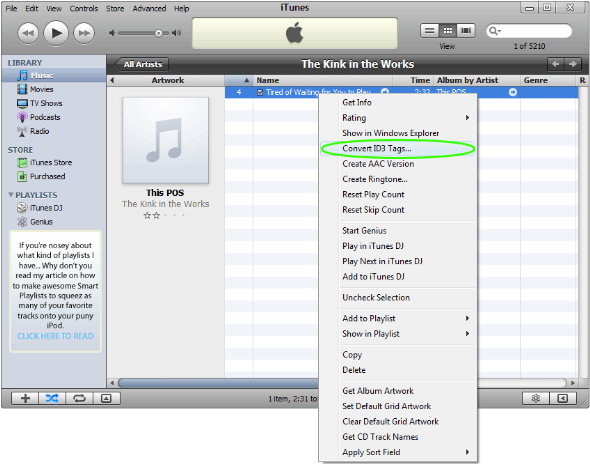 Step 2: Select either 1.0 or 1.1 in the version pull down menu, if the Reverse Unicode option isn't grayed out, check that off as well, when you're done click OK.
Step 3: Enjoy your "repaired" song by playing it normally. The next time you sync your iPod the file should be repaired as well.
Step 4 (Optional): If you have many problem files, or don't have the time to weed through and find which ones aren't playing properly you can repair your entire library at once:

Select the "Music" option in your iTunes library
Next to the green Apple display in iTunes, click the List View button (first on the left).
Click the first track that appears and press CTRL + A on your keyboard, OR choose the Edit option from the top menu bar and click "Select All"
Follow the same steps from above for a single file (it will take a while to complete depending on how many songs are in your library so be patient.)
| | |
| --- | --- |
| | If you're still having trouble playing your files, want to check for and delete duplicate and missing files from your library, check out iTSfv – iTunes Store file validator, it's FREE and open source. Even if you're not having trouble, it's pretty much the iTunes swiss army knife and I highly recommended it. |